| | |
| --- | --- |
| Journal title | JSP (Jurnal Seni dan Pembelajaran) |
| Initials | JSP |
| Frequency | 4 issues per year (february, may, august, november) |
| ISSN | 2715-2138 |
| Editor-in-chief | Agung Kurniawan, M.Sn |
| Managing Editor | Indra Bulan, S.Pd., M.A |
| Publisher | Program Studi Pendidikan Seni Tari FKIP - Universitas Lampung |
| Indexing | Google Scholar, Garuda, Base, One Search, and others. |
JSP is a journal containing the results of research/non-research studies related to arts, including fine arts, performing arts, the arts of film, and also about arts education. JSP is a collection of research, literal study, performing art review, art studies, and critical study in Indonesia. JSP  is published twice a year in April and October by the Dance Education Study Program in Faculty of Teacher Training and Education of Lampung University (UNILA).
The journal welcomes articles from a wide range of theoretical and methodological approaches to research, and encourages submissions from the broader fields of education and the arts that are concerned with learning through art and creative education.
e-ISSN: 2715-2138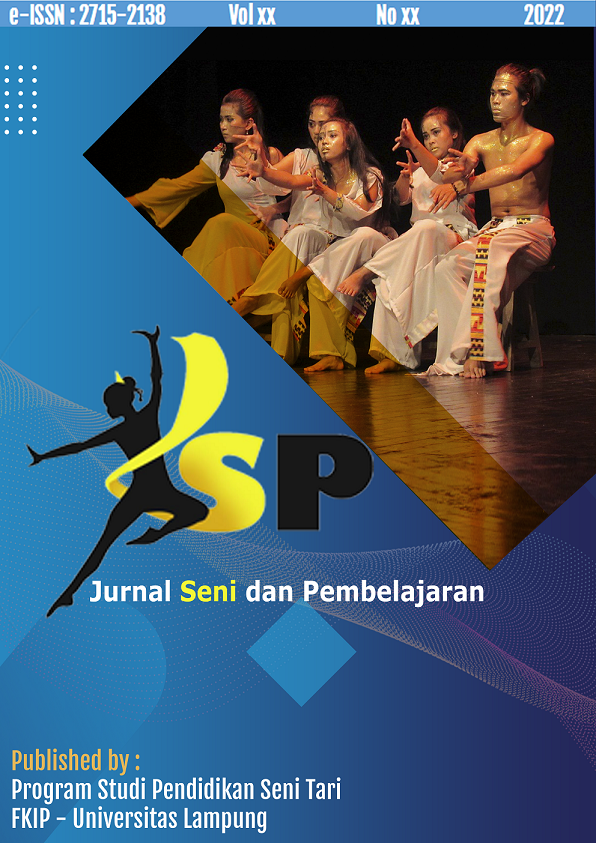 Indra Bulan, S.Pd., M.A
Jl. Prof. Dr. Sumantri Brojonegoro No. 1 Bandar Lampung, 35145, INDONESIA. Fax +62 721 702767.
HP 085377803300
Email: jsp_proditari@fkip.unila.ac.id
Announcements
No announcements have been published.
Vol 11, No 1 (2023): Jurnal Seni dan Pembelajaran
Table of Contents
Articles
| | | |
| --- | --- | --- |
| | Siti Novia, Indra Bulan, Nabilla Kurnia Adzan | |
| | | |
| --- | --- | --- |
| | Melda Silpina, Amelia Hani Saputri, Indra Bulan | |
| | | |
| --- | --- | --- |
| | Aulia Fitri Wibowo, Dwiyana Habsary, Nabilla Kurnia Adzan | |