---
Journal title
Pedagogi: Jurnal Pendidikan Dasar
Initials
PDG
Frequency
Bianually (April & Oktober)
Editor-in-chief
Fadhilah Khairani
DOI
http://dx.doi.org/10.23960/pdg by

Online ISSN

2807-1735

Print ISSN

2086-2393

First Published
April 2013 (On Going)
Publisher
PGSD FKIP Universitas Lampung
Citation Analysis
Google Scholar
Contact
pgsd@fkip.unila.ac.id /

085725759446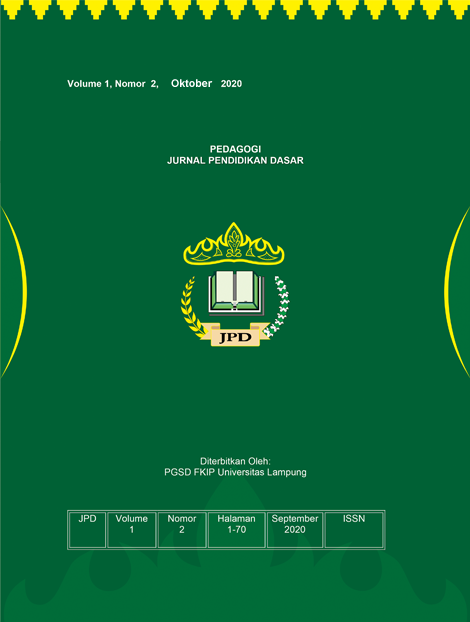 Pedagogi: Jurnal Pendidikan Dasar reviewing policies are: 1. Every submitted paper will be reviewed by at least two peer-reviewers. 2. Authors are also unaware of the identity of reviewers (Blind Peer Reviews). 3. Reviewing process will consider novelty, objectivity, method, scientific impact, conclusion, and references. Article evaluation process will be taken approximately three months and the acceptance or rejection decision will be delivered to authors via email and ojs. The articles must not be published elsewhere.
Pedagogi: Jurnal Pendidikan Dasar is indexed in:
No announcements have been published.
Table of Contents
Articles
| | | |
| --- | --- | --- |
| | Yoga Fernando Rizqi, Loliyana Loliyana, Rapani Rapani, Devika Aulia, Hariyanto Hariyanto | |
| | sinta khoiriyah alfirdaus, Moh Sutomo, Andi Suhardi | |
| | Hariyanto Hariyanto, najoya dolok saribu, Nelly Astuti, Supriyadi Supriyadi | |
| | Miftahul Janah, Safrizal Safrizal, Zulhendri Zulhendri | |
| | Amina Divina P, Herawati Susilo, Ratna Ekawati | |
| | Rohimin Rohimin, Bujang Rahman, Hasan Hariri, Dayu Rika Perdana | |
| | Jody Setya Hermawan, Tania Darojatun Mulya, Rapani Rapani, Nelly Astuti, Amrina Izzatika | |