Jurnal Pengabdian Sosial Indonesia (JPSI) = Journal of Indonesian Social Service diterbitkan oleh Jurusan Pendidikan IPS Fakultas Keguruan dan Ilmu Pendidikan Universitas Lampung adalah peer-reviewed journal yang memuat artikel-artikel ilmiah dari berbagai disiplin ilmu yang diadopsi dalam berbagai aktivitas pengabdian kepada masyarakat. Terbit pertama kali pada tahun 2021 dengan frekuensi terbit empat kali setahun pada bulan Maret, Juni, September dan Desember.

Artikel-artikel yang dipublikasikan di JPSI FKIP UNILA meliputi hasil-hasil pengabdian kepada masyarakat asli. JPSI menerima manuskrip atau naskah artikel hasil pengabdian kepada masyarakat pada bidang keilmuan yang relevan mencakup:
• Pendidikan
• Geografi
• Sejarah
• Ekonomi
• Kewarganegaraan
• Sosiologi
• Antropologi
• Akuntansi
• Demografi
• Ekologi
• Geologi
• Hukum
• Ilmu Lingkungan
• Linguistik
• Politik
• Psikologi
DOI: http://dx.doi.org/10.23960/JPSI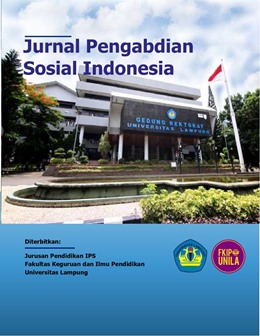 Announcements
No announcements have been published.
Vol 3, No 3 (2023): Jurnal Pengabdian Sosial Indonesia (JPSI)
Table of Contents
Articles
| | | |
| --- | --- | --- |
| | I Komang Winatha, Suroto Suroto, Tedi Rusman | 115-121 |