Economic Education and Entrepreneurship Journal ISSN 2775-2607 (e), 2579-5902 (p) is a forum for information and publication of research or ideas of researchers, lecturers, teachers, education practitioners, policymakers, education observers and students in education, economics education, accounting education, entrepreneurship, and research innovations in economic education such as media development, blended learning, and mobile learning.
First published in 2018 with a frequency of publishing twice a year in May and November. In 2022 the editorial team decided to increase the number of articles and change the publication format to a continuous publication format.
The Economic Education and Entrepreneurship Journal was first published in 2018 by the Economic Education Study Program, the University of Lampung, in collaboration with ASPROPENDO. This journal is an open-access journal.
This journal accepts articles throughout the year. Will be reviewed articles before publication.
This journal is nationally accredited SINTA 5
DOI Journal: http://dx.doi.org/10.23960/E3J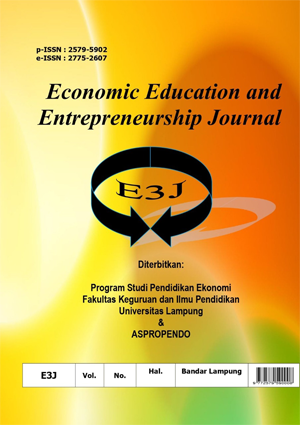 Announcements
Announcements

Notified to all writers and readers of the Economic Education and Entrepreneurship Journal (E3J) that in Vol 6 No. Edition 1 May 2023 onwards there is a change in the language used, namely using English and a change in the article template from here to here
Posted: 2023-04-07
More...

Addition of the number of articles in the issue

It is notified to all writers and readers of the Economic Education and Entrepreneurship Journal that on Vol 5 No. 1 issue of May 2022 onwards the number of articles in the issue of the Economic Education and Entrepreneurship Journal will be increased to 16 articles per issue.
Posted: 2022-04-07
Vol 6, No 1 (2023): Economic Education and Entrepreneurship Journal (E3J)
November 2022-Mei 2023
Table of Contents
Articles
| | | |
| --- | --- | --- |
| | Ahmad Jaenudin, Teguh Hardi Raharjo, Dwi Puji Astuti, Siti Nuraini | 8-14 |
| | | |
| --- | --- | --- |
| | Rahmah Dianti Putri, Yon Rizal, Nurdin Nurdin | 15-21 |
| | | |
| --- | --- | --- |
| | Inanna Inanna, Suharni Suharni, Tuti Supatminingsih, Nurjannah Nurjannah, Muhammad Hasan | 22-30 |
| | | |
| --- | --- | --- |
| | Fakhira Arifin, Mustari Mustari, Muhammad Dinar, Nurdiana Nurdiana, Muhammad Hasan | 31-41 |
| | | |
| --- | --- | --- |
| | Dwi Puji Astuti, Kardiyem Kardiyem, Siti Nuraini | 42-49 |
| | | |
| --- | --- | --- |
| | Ernawatii Ernawati, Salma Indira Putri, Tabina Azzahra | 50-55 |
| | | |
| --- | --- | --- |
| | Alfandi Ovi Adam Suryatnu, Dewi Kusuma Wardani, Dini Octoria | 56-64 |
| | | |
| --- | --- | --- |
| | Ananda Setiawan, Nazwa Nabela, Penny Kasuma Indah | 71-82 |
| | | |
| --- | --- | --- |
| | Rachmawaty Rachmawaty, Andi Sawe Riesso, Andi Werawe Angka, Nurdiana Nurdiana, Dillah Faradillah Hasanah | 83-88 |
| | | |
| --- | --- | --- |
| | R. Dewa Wahyu Happy Dayka, I Komang Winatha, Suroto Suroto, Tedi Rusman, Yon Rizal, Nurdin Nurdin | 89-96 |
| | | |
| --- | --- | --- |
| | Fitriyani Agung, Riswandi Riswandi, Ryzal Perdana | 97-103 |
| | | |
| --- | --- | --- |
| | Andri Muazzam, Musfiana Musfiana, A Razak, Achmad Mustofa | 104-109 |
| | | |
| --- | --- | --- |
| | Ahmat Nurmawan, Rahmah Dianti Putri, Erlina Rupaidah | 110-117 |
| | | |
| --- | --- | --- |
| | Evi Ardila, Dian Utami, Pargito Pargito | 118-125 |